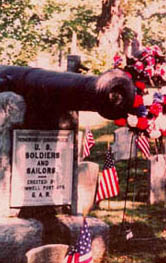 Cromwell Post monument,
located in the White Plains Rural Cemetery
The White Plains soldiers' monument stands on Broadway. This statue was erected in 1872 by the White Plains Veterans Association, a group that predated and eventually became Cromwell Post. Captain Valentine Hodgson, commander of the Veterans Association, met with several White Plains civic leaders and together they chose a contractor and site for the monument.
The chosen site on Broadway, however, was directly in front of the home of J. Warren Tompkins, who objected to the placement of the statue. He obtained a court order, effective July 1, 1872, to stop the erection of the monument. At midnight on June 30, the veterans persuaded the contractor to proceed with his work immediately. Working by the light of a bonfire, the men soon finished the job and the statue was in place two hours later. Tompkins then initiated a suit for removal of the statue; Judge Joseph Barnard later dismissed the case. A later July 4th celebration shows the veterans with the statue. Valentine Hodgson is on the far left.